API Plan 53C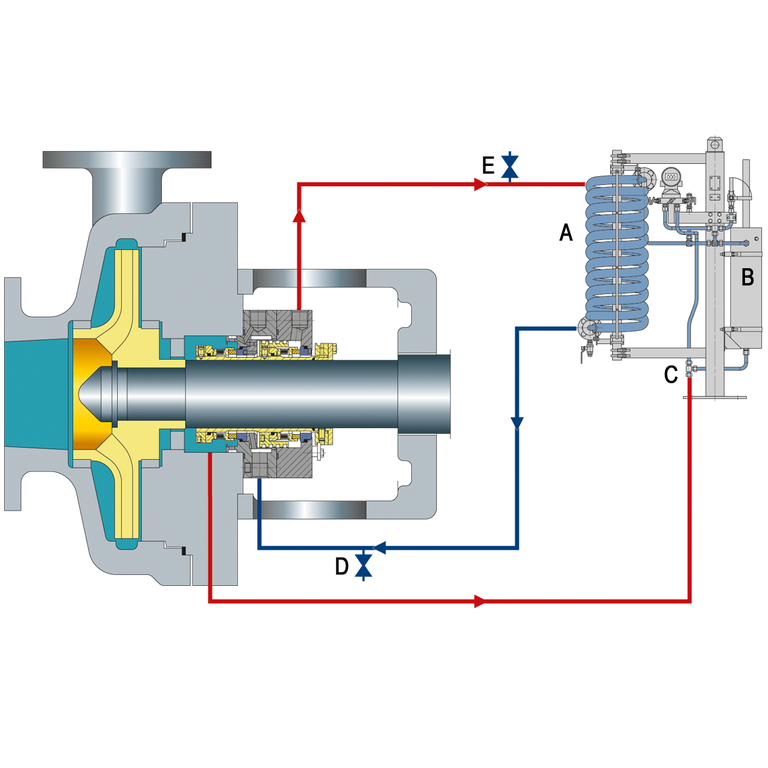 API Plan 53C
Barrier fluid system pressurized by a piston accumulator supplying clean liquid for an arrangement 3 pressurized dual seal. The barrier pressure is generated from the seal chamber pressure. The system is self-energizing and reacts to fluctuations in the seal chamber fluid pressure.
A Cooler
B Piston accumulator
C Pressure reference
D Drain
E Vent
---
Seal chamber details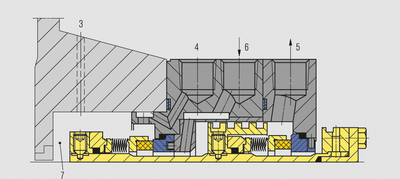 3 Pressure reference
4 Flush (F)
5 Liquid barrier OUT (LBO)
6 Liquid barrier IN (LBI)
7 Seal chamber

Example seal: EagleBurgmann MBS682-PTA dual metal bellows mechanical seal.
---
P&ID according to API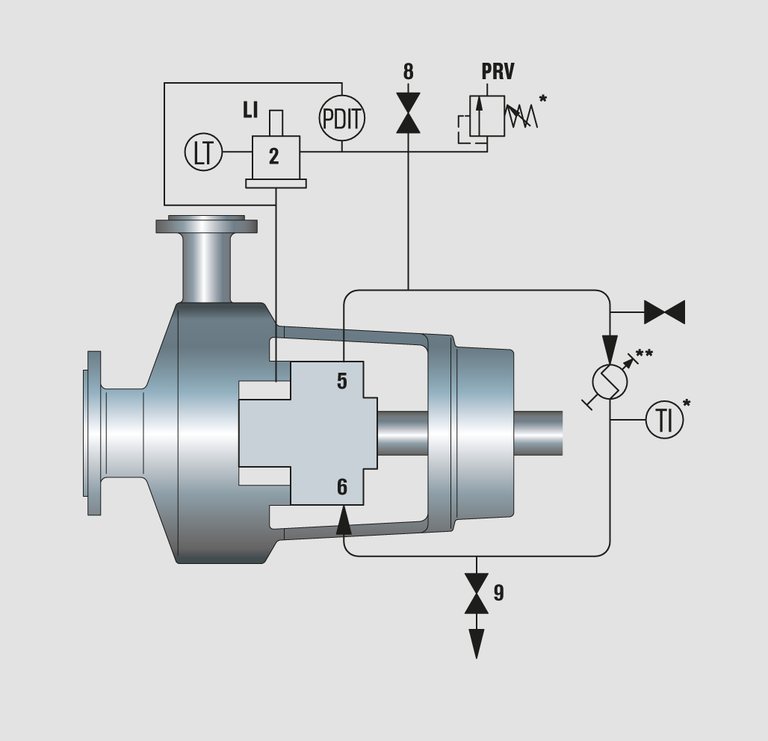 Key
1 Make-up barrier liquid
2 Piston accumulator
5 Liquid barrier OUT (LBO)
6 Liquid barrier IN (LBI)
8 Vent
9 Barrier fluid drain

LI Level indicator
LT Level transmitter
PRV Pressure relief valve*
PDIT Differential pressure transmitter with local indicator
TI Temperature indicator*
* If specified
** Vertically oriented, finned air cooler may be provided if specified
Features
A piston accumulator dynamically adjusts the barrier pressure which is based on the seal chamber pressure, thus maintaining a fixed, steady differential pressure across the inboard seal faces.
Barrier liquid enters the process medium through the inner seal faces.
Uses the seal chamber pressure as a reference pressure and accordingly magnifies the barrier pressure by a pre-defined ratio.
Highly reliable since there is no need for an external pressure source.
Heat is removed with the help of a water cooler or an air cooler.
Uses an internal circulating device to ensure barrier liquid circulation.
Application
For services where product dilution is acceptable.
For services where media is unsuitable for flushing the inner seal faces.
For services where Plan 53A cannot be used due to non-availability of a permanent, reliable nitrogen supply.
Ideal plan for applications with varying seal chamber pressures. Pressure ratio depending on stuffing box pressure range:

4 bar (58 PSI) ... <10 bar (145 PSI) = piston ratio 1:1.5
10 bar (145 PSI) ... <22 bar (319 PSI) = piston ratio 1:1.2
22 bar (319 PSI) ... 40 bar (580 PSI) = piston ratio 1:1.1;
For stuffing box pressures less than 4 bar (58 PSI) or above 40 bar (580 PSI) consult EagleBurgmann.

Check with the process engineer if product contamination is acceptable.
Remarks, checkpoints
Check barrier fluid compatibility with the media.
Vent the system before start-up. Later ensure that the vent line always remains closed.
Sense the seal inlet and outlet line temperatures. Difference in the temperatures is an indication of proper flow.
Ensure that the barrier pressure is always higher than the seal chamber pressure by at least 1.4 bar (20 PSI) (for piston ratio selection).
Since there is less barrier fluid volume in the accumulator, heat dissipation is very much a function of the cooler efficiency.
Ensure that the seal chamber reference line is not choked and that it is connected to the downstream of the accumulator.
Ensure proper heating or cooling of the reference pressure line if necessary.
Check the compatibility of the accumulator materials with the pump media.
Pump media characteristics
Non-polymerizing and clean media
Poor lubrication properties
Hazardous / environmentally harmful
Close to vaporization point
Can tolerate dilution with barrier media
Location, function
Between seals
Barrier system (psealchamber < pbetweenseals)
Lubrication, flushing and cooling for both inboard as well as outboard seals